Baby Blender - Scratch Build by FliteTest
Posted: October 10, 2012 | 69,320 views
---
The Baby Blender Biplane is a smaller version of the original large scale Scratch Build Blender RC airplane and it's also the 4th installment of the swappable series!
Swappable Series Scratch built foam board airplanes are designed with a interchangeable fuselage/power pod!
If you purchased a Speed Build Swappable Kit from our Web Store you will want to watch the build video for the Baby Blender V2 - Speed Build Kit.

There's also a bunch more photos in the forum post! Check it out and join in on the discussion!
Build Plans Available here:
All in One Baby Blender Plans
TIP for printing the plans:
To print "tiled" use Adobe Reader XI and in the print dialog select "POSTER", select "Cut Marks" and make sure "Tile Scale" is 100%. Then overlap and tape as required (after trimming the top overlapping edge).
(Thanks youtuber larrybarrick for this suggestion!)
Click HERE to see the POWER POD BUILD VIDEO
Equipment used in this build:
NTM Prop Drive Series 28-26A 1200kv / 250w
TURNIGY Plush 25amp Speed Controller
Turnigy 1300mAh 4S 20C Lipo Pack
Linkage Stopper "Speed Clevis"
.81mm piano wire (push rods)
Futaba T8FG Super 14ch Transmitter w/R6208SB 2.4GHz Receiver
Futaba R6106HFC 2.4GHz FASST Mid Range 6Ch Rx

Additional/Alternate components:
Suppo 2208/14 1450kv Brushless Motor (Park 370 equiv.)
APC-style Electric Propeller - 8x4E
Suppo 18A Brushless ESC
Suppo SP-90 9g Micro Servo


To watch the Baby Blender Biplane Review go here:
http://flitetest.com/articles/Baby_Blender_Biplane


Related Articles
» Join the discussions on our forums
Comments
Log In to leave comments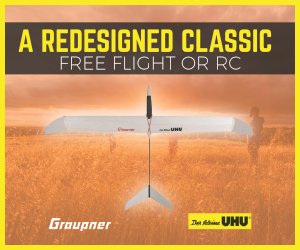 Featured Author
Influence
73%
Recent Articles
REVIEW: Flite Test FT210 Quad Frame
Arris x180 – Good Things Come in Small Packages
Loc8tor Lite Review - Locate your RC aircraft!